FREE SHIPPING ON ORDER OVER $99
Bluetooth Smart Electric Jump Rope Machine
Digital Counter Bluetooth-compatible 5.1 Entertaining Electric Rope Skipping Machine Exercising Home Workout Training Smart Remote Control Automatic Jump Rope
Multiplayer intelligent rope skipping machine, truly unblocking hands.
Adults and children jump rope at the same time to increase parent-child activities and intimacy.
PU wrapped nylon rope, super tough, not easy to break
Built-in rechargeable lithium battery, one charge can be used continuously for 20 hours, standby for more than 30 days
10 gear shift key remote control, scientific design, shifting gears, 360° without dead ends, stable, fast and smooth, say goodbye to winding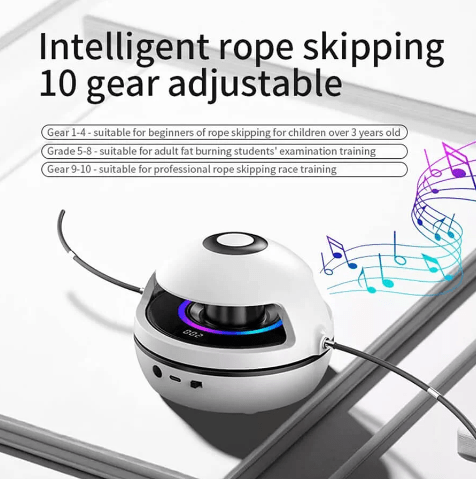 Step on the machine, you can make an emergency stop, the machine will stop running, and it is safer to use.
Place it on any surface without any problem at all
Feature:
Free Your Hands and Innovate Movement: This new smart automatic jump rope machine for beginners is easy to use and assemble. You can dance while chatting with people, watching TV, or jumping in different positions and listening to music. Compared with the traditional jump rope, it is safer and more convenient without hurting the people around you.
Remote Adjust 1-10 Speed: Jump rope machine has 1-10 speed levels, Adjust the speed of rotation use the remote you don't need to bend down on the intelligent rope skipping machine.you can change the jump speed at any time without stopping.Suitable for Kids, the elderly or beginners, professional athletes physical fitness and speed training.Tips: Beginners are recommended to use a rope, two ropes can double the speed, be careful.
Jump Rope with Counter: The HD LED display on this fitness jump rope shows Circles and speed level, is useful to monitor your exercising progress. When the rope rotates and touches the foot, not count; when it continues to rotate normally, counts.
High Quality: This rechargeable rope skipper body is made of high-quality PC plastic, providing unimpeded and stable 360 degree rotation, quiet and stable, with non-slip bottom, will not move when rotating, even if accidentally thrown to the foot, will not hurt the foot is durable . smooth ball bearings on the inside to offer an unhindered, not tangling and coiling.No noise.
No Limitation of Occasion: No need to worry about the limitation of the venue, no need to worry about making noise, no need to worry about the change of weather. Whether at home, gym, office, party or any flat place, our jump rope machine is always fun to exercise. Bringing it to your friends and family can eliminate tension and improve relationships.
Specifications:
Material: ABS
Interface: Type-C
Product size: 8.5*13*9cm / 13.6*9.5cm(Upgraded)
Product weight: 1032g / 1000g(Upgraded)
Package Content:
1 x Jump Rope Machine
1 x Rope
1 x Charging Cable